Teenagers have ups and downs, but if they're down day after day something could be wrong. Clinical depression, a psychological illness that goes far beyond feeling blue, affects roughly 5 percent of all teenagers and is more likely to occur in girls than boys. If your daughter shows several of the classic signs of clinical depression—sadness, not enjoying life, changes in her appetite, sleep, or activity levels, fatigue or loss of energy, feelings of guilt or worthlessness, or difficulty concentrating—for many days in a row, consider having her evaluated for a mood disorder. Should your daughter express suicidal feelings, call her primary care provider immediately; if she indicates that she might hurt herself, take her to an emergency room.

Unfortunately, it is not widely known that the symptoms of depression in teenagers are rarely the same as the symptoms in adults. Instead of being sad and gloomy, depressed teens are more likely to be highly irritable with most people, most of the time. Living with a teenager who suffers from this form of depression is like living with a touchy porcupine. When teens are testy all the time, it's easy for adults to write their behavior off as stereotypically teenaged and simply annoying. That's a mistake, and one that causes us to miss many highly treatable cases of adolescent depression. If you tense up every time you try to interact with your daughter because you expect her to be prickly, you should consider the possibility that something's really wrong.

Bipolar disorders—mood disorders that involve both manic highs and depressive lows—often begin during adolescence. Teenagers who suffer from manic episodes may have periods in which they sleep little, talk fast, and dash from one activity to the next, often with little regard for their own safety. Though mania is often associated in the popular culture with joyful giddiness and high levels of productivity, adults and teenagers in a manic phase are likely to become agitated or irritated and to accomplish little even while being endlessly active. Recent years have seen a sharp, controversial increase in the diagnoses of these disorders in teenagers. On one side of the debate you'll find clinicians who worry that we're now carelessly stretching an old diagnostic category to include what are really just common, if extreme, adolescent mood swings. On the other side, you'll find clinicians who feel that bipolar disorders have long been underdiagnosed in teens because their manic symptoms sometimes look like mere troublesome outbursts, not the hyperactivity we typically see in manic adults.

And then there's anxiety, a feeling that can be a useful signal that something's amiss, but only when it occurs in certain contexts and with sufficient intensity. As we know, anxiety can be a girl's best friend if it helps her to be on her toes when she's in a dangerous situation. Unfortunately, anxiety can also grow out of control and ring a deafening emotional alarm when there's no real threat to be managed, or when the threat is small one, such as a quiz on a topic the girl knows well. Girls often talk about being stressed or anxious, so it can be easy to dismiss their concerns, but a full 10 percent of teenagers may suffer from full-blown anxiety disorders, which, like clinical depression, are also more likely to occur in girls than boys.

If you're feeling overwhelmed by the murky picture I'm painting of adolescent mood and anxiety disorders, I've got good news and good news for you. The first bit of good news is that you don't need to try to make any subtle diagnostic distinctions before seeking help. Psychiatric diagnoses morph constantly and have become vastly complex. If you're worried that something's wrong, get an evaluation from a trusted clinician. The second bit of good news is that there's an easy way to know if something's wrong. Your daughter's moods are grounds for concern if they interfere with her progressive development.

Several years ago I worked with a seventeen-year-old girl suffering from such profound social anxiety that she refused to attend school. She was certain that she was being scrutinized by classmates who stood ready to ridicule her if she got mayonnaise on her cheek while eating her sandwich or if she stammered while speaking in class. She rarely left her home, was so self-conscious that she wouldn't order her own meal if she went out to dinner with her parents, and was completing her junior year thorough an online program. We threw our weight behind getting her anxiety under control. Though she was progressing academically, her out-of-control emotions had stopped her from parting with childhood (her parents still had to care for her as if she were very young) or joining a new pack.

Long story short, it's your daughter's job to grow along the strands described in this book, and if her moods are getting in the way, she needs help. If she can't part with childhood because she's anxiously clinging to you, be concerned. If she can't join a new pack because she's so depressed that she won't reach out to classmates, it's time to worry. The same rule applies to the strands yet to come. It's normal for girls to be temperamental, but they shouldn't be so out of sorts that they offend every adult (chapter 4), can't plan for the future (chapter 5), won't pursue romantic relationships (chapter 6), and don't care for themselves (chapter 7)....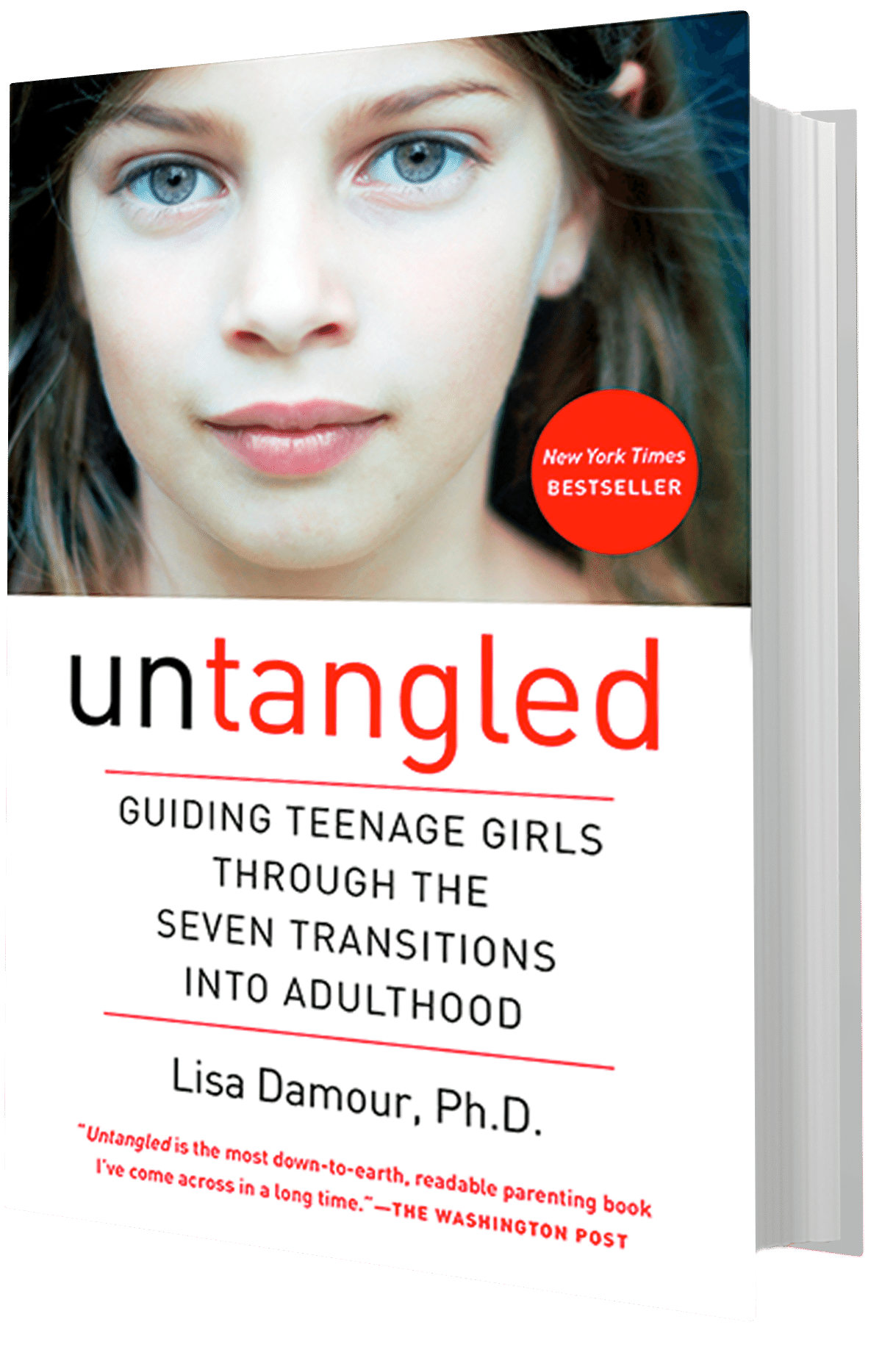 Untangled
Guiding teenage girls through the seven transitions into adulthood
Lisa's award-winning New York Times best seller–now available in eighteen languages–is a sane, informed, and engaging guide for parents of teenage girls.
Buy now